About shared history
---
Your hosts
Cass Maher (she/her)
Cass is a comedian, musician and podcaster from Des Moines, IA.

A lover of all things storytelling, she holds a real degree in Brit Lit and a dream degree in Musical Theatre and The Least Quotable Lines from Movies.

Favorite topics: Literature, Women Doing The Most, Sports, Origins & Etymology, WWI, Dance apparently, Iowa
Natalie Younger (she/her)
Natalie is a writer, comedian, actor and podcaster based in Chicago,IL.

An avid nonfiction reader and long-time history nerd, Nat took at least 2x the required history courses in HS and yet, inexplicably, didn't choose to pursue it in college.

Favorite topics: Chicago, Schisms/Church Drama, Labor & Union, Women in STEM, Golden Age of the Mediterranean
Proudly played on the Broadsheet Radio network

Listen on:
Apple Podcasts
Spotify
Stitcher
Google Podcasts

Or wherever you listen to podcasts.

Not sure where to start? Check out our Spotify Playlists!
We'll say it again: Black, asian and indigenous lives matter
---
Support the communities under attack by surges in and by the steady racism and hate that surround us.

BLM Edu & Support Resources
Stop AAPI Hate
Donate to the AAPI Community Fund
Donate to the Native American Food Sovereignity Alliance

We want to acknowledge that we live and produce this podcast on the traditional land of the Ojibwe, Ottawa, Potawatomi, Ioway, Sauk and Fox people. It is important for all of us to understand, grapple with and respect the inherent right to these lands held by the native population. This is not history, this is reality.

Shared History stands against racism. We acknowledge our privilege and that we will always be learning and growing on our journeys to being stronger anti-racists and allies to our peers of color. As in all capacities of our podcast, we welcome questions, corrections, and suggestions.
support your favorite pods
---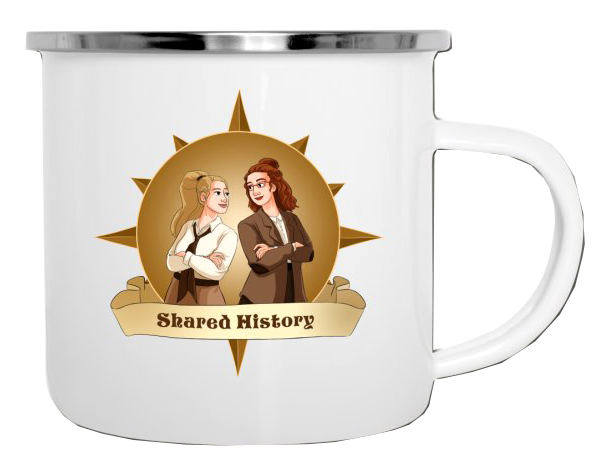 Shared History is an independent podcast largely made possible by listeners like you!

You can show your support...

With your Words
--Leave us a rating and review on Apple
--Like, comment and share our posts on Instagram & Twitter
--Tell a history-lovin', history-hating, or history-neutral friend about us!

With Your Wallet
--Pick up some merch & wear your love of Shared History on your sleeve, literally
-- Buy us a coffee and fuel our next episode!
--Support us Patreon for access to exclusive merch and bonus episodes from us and other Broadsheet Radio podcasts.

Want a FREE sticker? Just DM us!